Usually done as part of a larger project we can fit you a luxurious bathroom or wet room.  We are up to date with the latest trends in bathrooms and can help you achieve that dream bathroom.  We have a host of suppliers that we use, all of whom have showrooms so you can see examples of the sanitary-ware or brassware or something very close.  If you have a vision we can help create it.  From large walk in showers to modern free standing baths we help in the design process and as a company that has been doing this for a long time you can be reassured that the installation will be done to a high standard.  We can help with all aspects of the job, having been trading for a long time we know most trades required, so if as part of the job you need electrical work carried out or a room re-plastered then leave it to us as we can organise that.  That reduces your stress and gives you more time to start looking forward to using your bathroom/shower room when it is completed.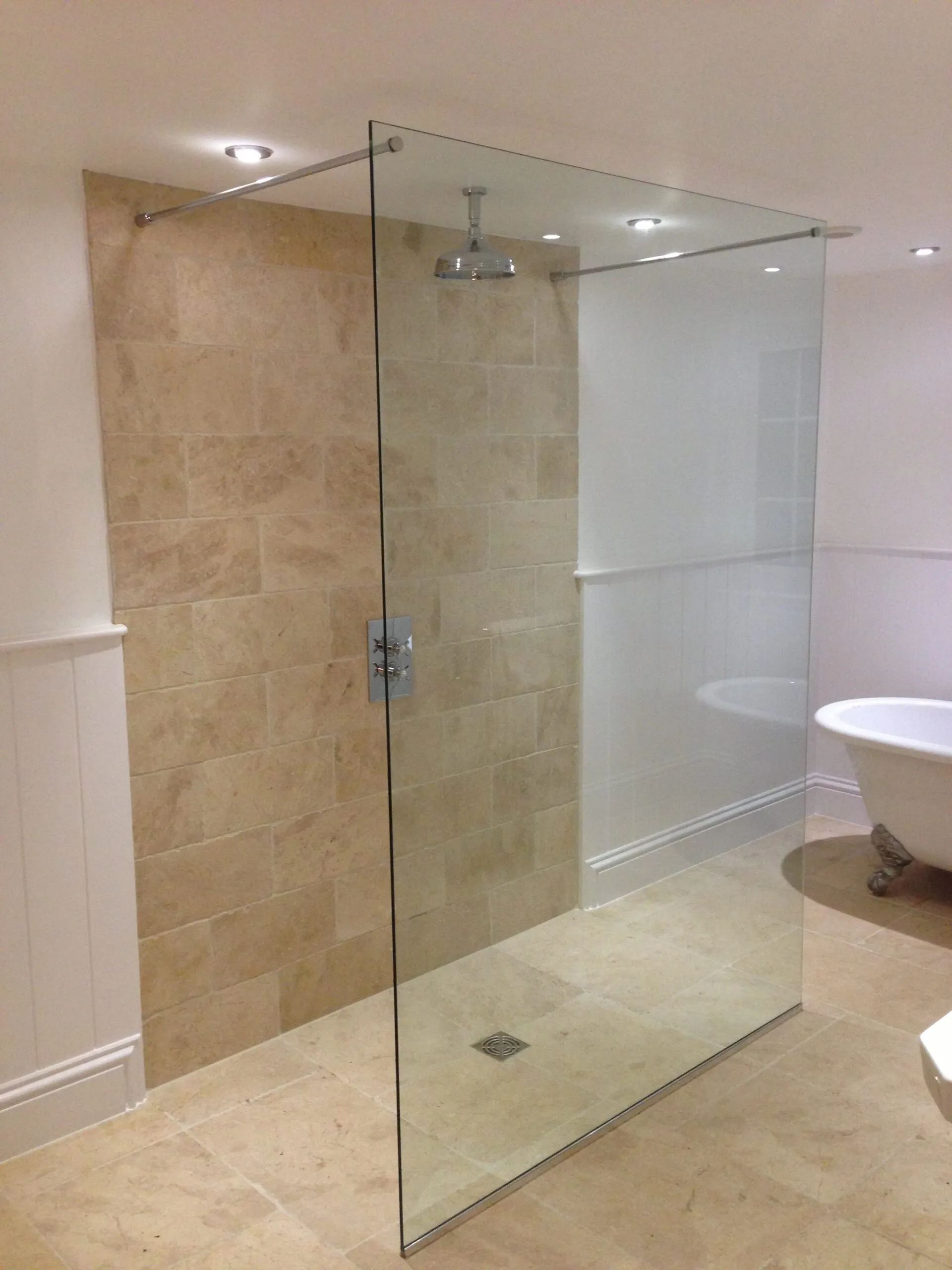 Wet Room installations
We have been producing high quality wet room installations for many years.  Things to consider when installing a new wet room are strength of the floor, falls for the water to drain away effectively and water proofing of the shower area.  There are a number of different manufacturers  we use that produce high quality formed shower trays that can be tiled over to produce the wet room shower.  Proper tanking, or waterproofing, is required on the floor, the walls and especially in the corners of the shower area as these can be weak spots.  Occasionally in older properties the floor joists can be a little flexible and not level.  We often need to strengthen the floor and level it up which is all work that we can carry out.
Usually wet room shower controls are all concealed in the wall.  In the case of the picture shown here, which was a wet room that we fitted in 2012, it has access from both ends so the control was positioned centrally with a central ceiling mounted shower head.  More typically wet rooms have access from one end so the shower controls are positioned at the end you enter and with wall outlet to a fixed shower head and then a second outlet connected to a flexible hose.  No reason to stop at 2 outlets though if you require we can fit a shower that also has body jets as well to give you the all over shower experience.
More often than not these days with wet rooms, and indeed walk in showers, there are alcoves in the wall that you can put your shower gels and shampoo's in, this keeps them off the floor  and makes the whole installation tidier.  Recently we even fitted a low foot stand hole in the wall to help with shaving legs, a first for us!
So if you are interested in getting that perfect wet room then contact us and we will help you realise your dream.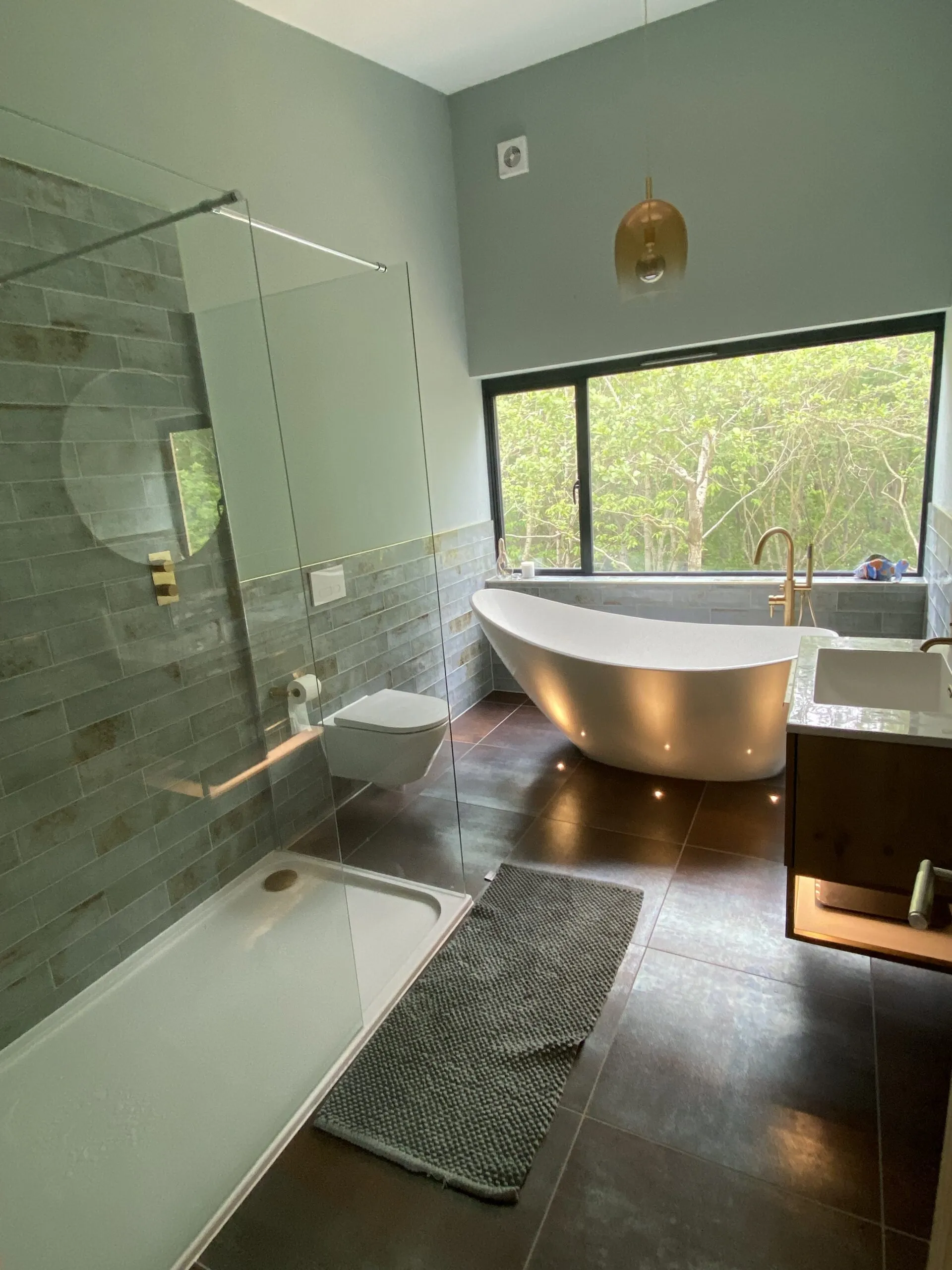 Very modern bathroom
This bathroom was recently fitted as part of a larger project, for more details see it in the Case Studies page.  It has a very modern look with a wall hung toilet and wash hand basin, a free standing bath with floor mounted taps and a walk in shower.  All items were carefully considered by the client for their look size and style.  We worked with the customer so she could achieve her perfect en-suite.
Opting to go for a brushed brass finish on the brassware it gives a more unique and individual look than chrome which the majority of bathroom are.  Connected to a high pressure unvented hot water cylinder it makes for the perfect shower and a bath that doesn't take long to fill.
Having the lights under the bath really help make a feature of it as does the lights on the wall hung vanity unit.
So if you have a vision of that luxury bathroom that you want to become a reality and are looking for a company to help then look no further.  We can help you decide on what can be done, point you in the right direction to visit showrooms so you can begin to see you what it will all look like.  Then we can achieve that look for you supplying all the materials and labour needed to realise that dream bathroom, taking all the stress away from you leaving you looking forward to your first bath or shower.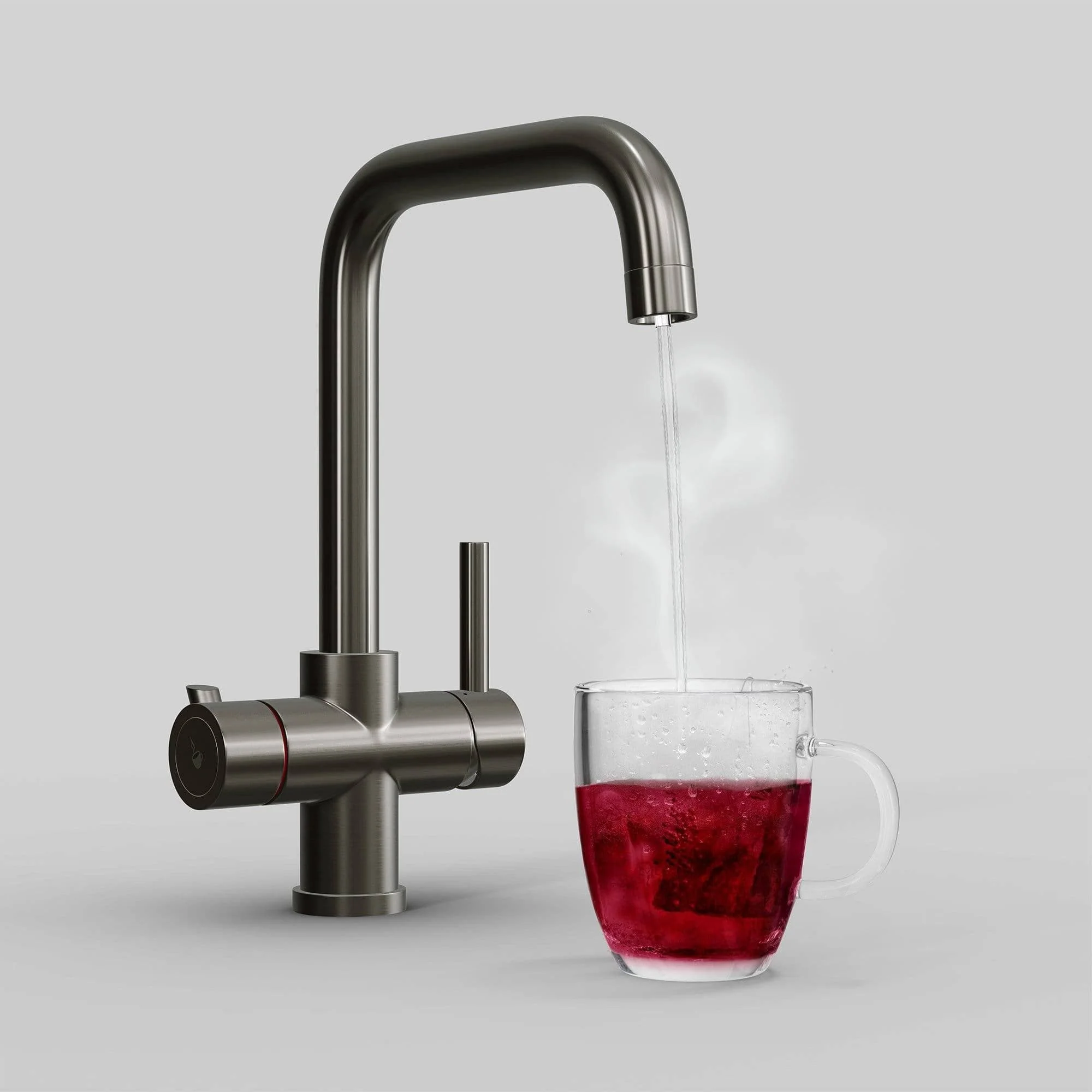 Modern kitchen appliances
With kitchens being the heart of the home it's very common now to have boiling water taps fitted as standard.  Not only do they bring the convenience of having instant hot water for cups of tea and boiling pasta it's one less thing to have on the worktop.  There are many taps available from ones that simply do boiling water to ones that can provide you with chilled filtered water, sparkling water as well as the normal hot and cold.  Coming in all sorts of different styles and colours there is a tap out there to suit your new kitchen.  All have built in safety so the boiling water can't be turned on accidentally.
We can also connect up the new washing machines and dishwashers, or built in coffee machines and fridges requiring a water supply.  Working regularly in hand built bespoke kitchens we have the attention to detail to finish off the kitchen to a standard you will want to show off to your friends.