A recent barn conversion carried out in Brampford Speke.
A currently on going project is a large job in Brampford Speke, again just outside Exeter that includes a barn conversion, a large pool house and various outside works.  Both the barn conversion and pool house have underfloor heating throughout which is heated via heat pumps.  In this case a Grant heat pump has been used for the barn conversion and and LG heat pump for the Pool House.  Both buildings have 1 x shower rooms each, photos added as they become available.  The outside work that has been carried out is an outside stainless steel shower heated by a small LPG water heater, this is used for rinsing off before and after being in the pool and also an outside boiler connected to a hose with a shower on used for washing off the horses.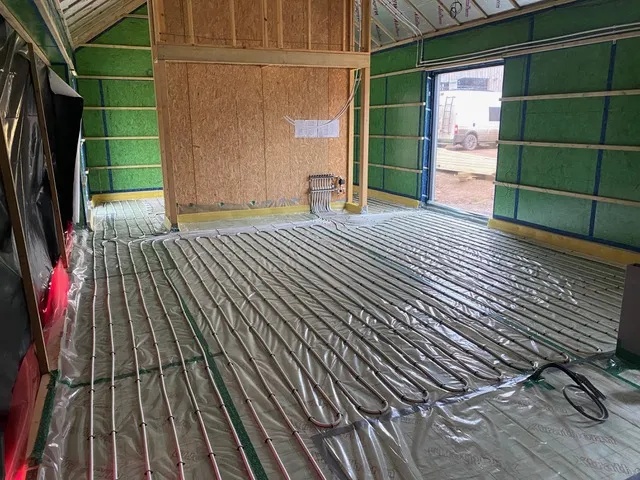 Underfloor Heating throughout
This property had underfloor heating throughout.  The 16mm diameter underfloor heating pipes were set at maximum of 150mm from centre to centre of each run, this is due to the heat source being an air source heat pump.  The pipes were clipped to the insulation below and then a liquid screed poured over.  The areas or rooms were split in to zones and each of these zones are controlled by smart Heatmiser Neostat thermostats.  By zoning the property each area has independent control over the temperature and programming leading to greater efficiency  and running cost savings.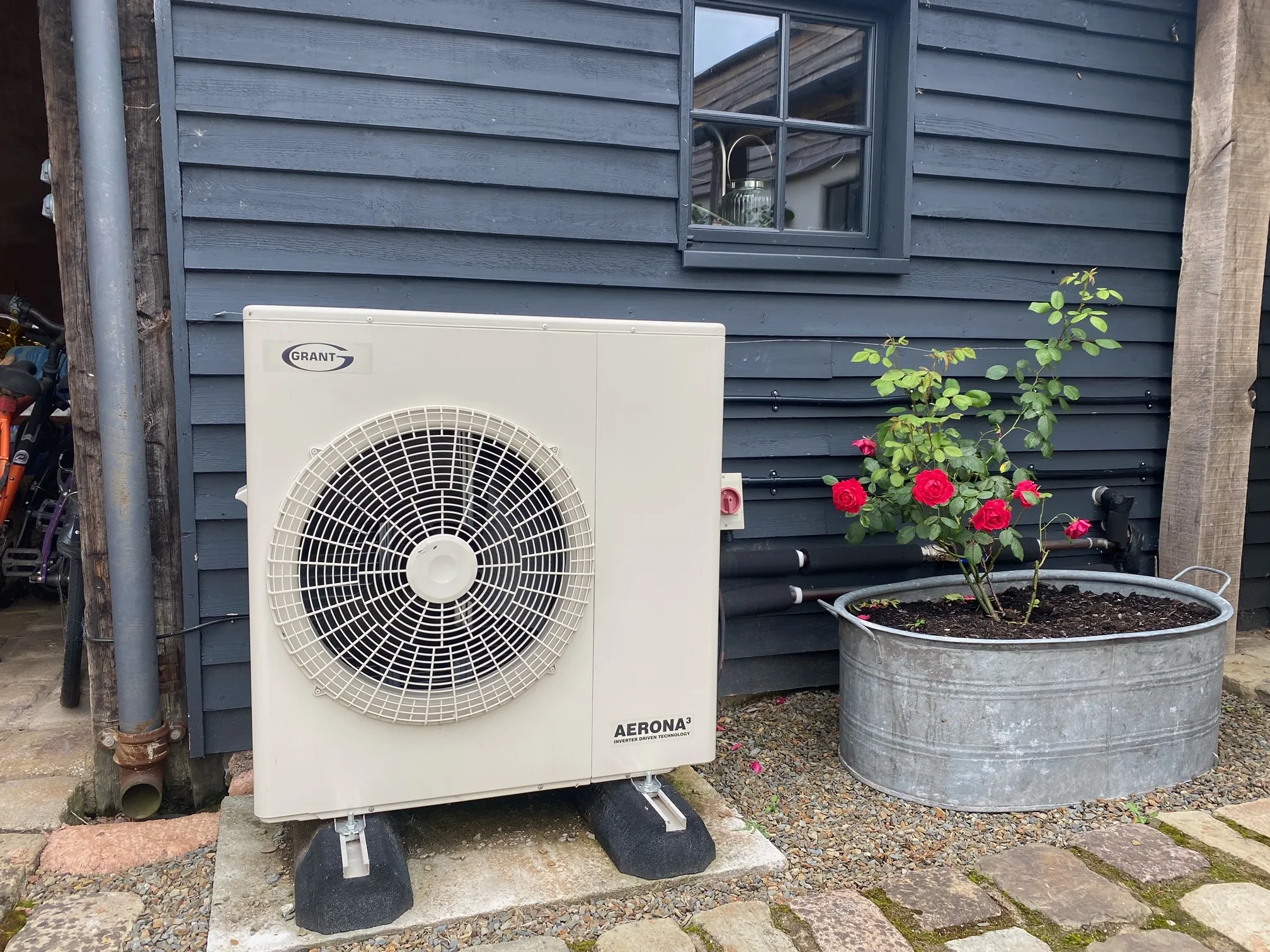 Grant Heat pump
This project benefitted from a Grant Aerona 3 air source heat pump, this low carbon heating solution will meet all the heating and hot water requirements for the recently converted barn.  Connected to the underfloor heating and an unvented cylinder, this highly efficient air source heat pump is proof that a modern heating solution can work in an old barn.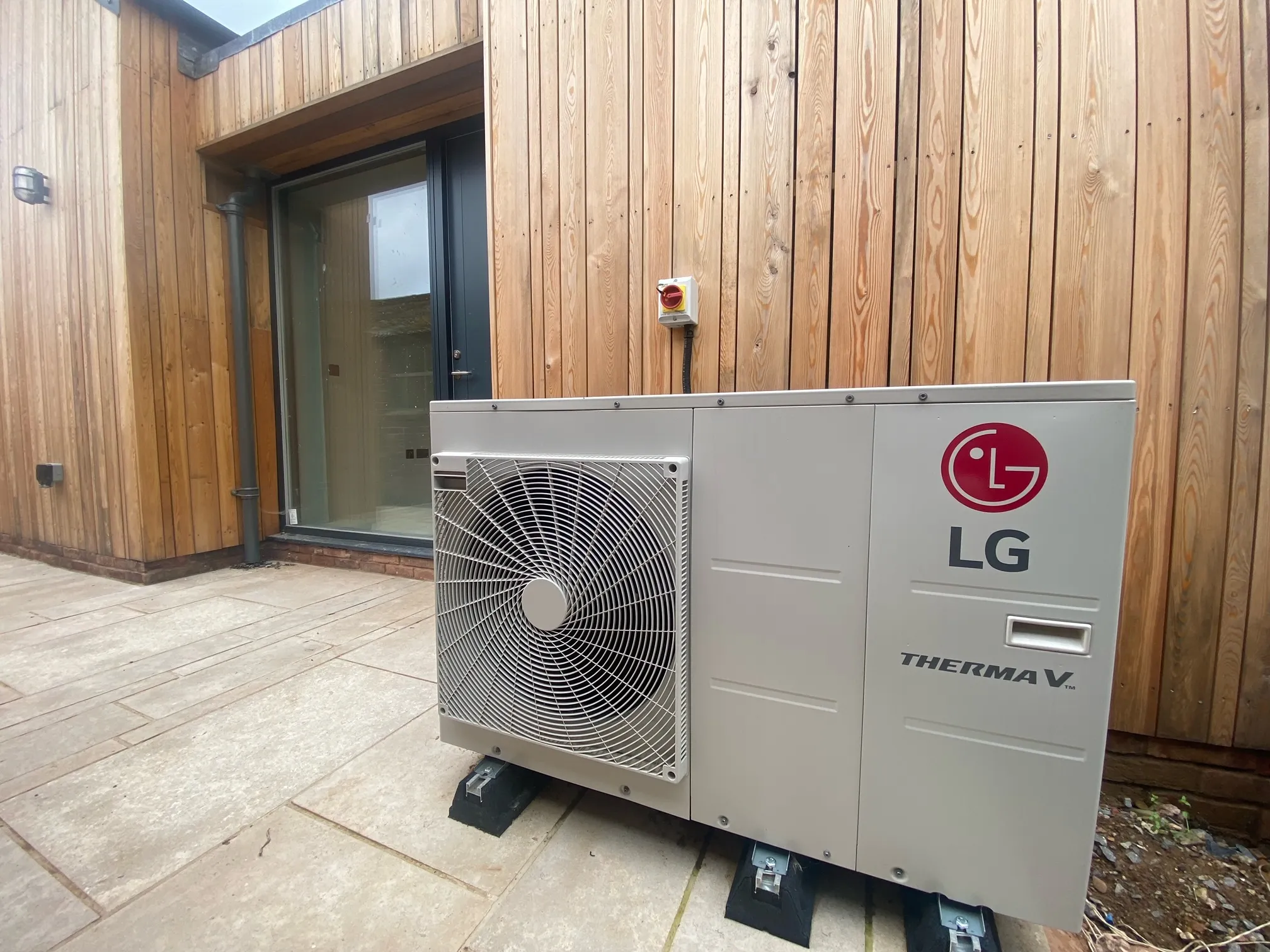 The Pool House
As part of this large on-going project a swimming pool has been constructed, next to this a new large Pool House has been built. Again complete with underfloor heating through with a shower room, all heated by a new LG 9kW air source heat pump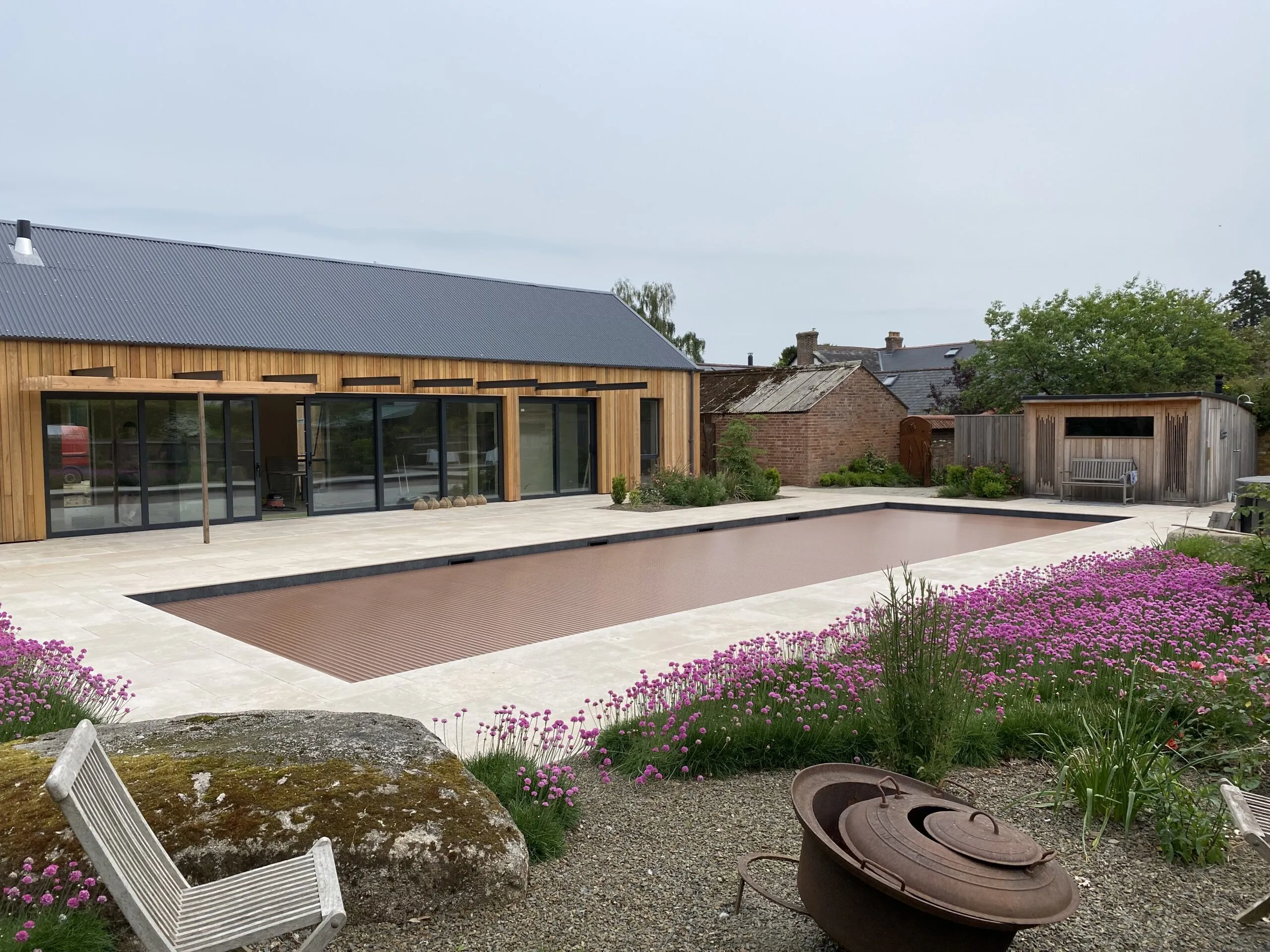 The Pool House
Here is the recently constructed pool, which we were not responsible for, with the new Pool House behind.  We supplied and fitted all the plumbing and heating in the building with UFH throughout, an unvented cylinder, a new LG 9kW air source heat pump, a shower room and WC.  To the right of the picture is the building that houses all the pumps and filter for the pool but there is also an LPG water in there, fitted by ourselves, with a vertical flue, and this supplies hot water to a new outside stainless steel shower for rinsing off before and after using the pool.
Horse Shower!
Certainly a first for us was the supply and installation of a new LPG outdoor water heater.  Used for washing off the horses the temperature can be set to exactly what is required using the outdoor controller, in this case it was set to 38˚c, by all accounts ideal for horses!  Even though the Rinnai water heater is very well insulated and the casing doesn't get particularly hot the unit has been mounted on a cement board to protect the timber of the stables behind.  Like waist the LPG gas bottles have more cement board behind to comply with regulations concerning distances from combustible surfaces.