Here at Exeter Heating we work closely with our customers to find them the best solution for their heating needs.  With years of experience working on projects that range from listed buildings to ultra modern grand design style self builds we listen to what the customer wants to achieve and time and again we deliver.  Customer satisfaction is our main goal.
If you need a new heating system or are looking to invest in your existing one we can design, supply and install a tailored heating solution for your property.  There isn't a heating installation  you get "off the shelf" that fits all properties, each one is different and in most cases requires a slightly different approach to achieve a heating system that provides comfort in an energy efficient manner.  
As a Gas Safe registered company since 2006, which was actually back in the days of CORGI, we have been installing both natural gas and LPG for our customers.  During that time we have seen introductions of new and changes to existing regulations, we remain focused on gas safety with regular training and updating our knowledge.  Its an industry that does not stand still.  One thing that hasn't changed is our goal, we continue to strive for excellence with a large number of customers who have been using us for many years. 
There is talk that as from 2035 you will no longer be able to buy gas boilers for your home, whilst this may be true it doesn't mean that you will need to completely change or fit an entirely new heating system.  Currently as it stands you will not be able to buy a new natural gas or an LPG  boiler but field trials are under way using a blend of natural gas and hydrogen.  In fact many boilers supplied and fitted now are capable to using gas that has up to 20% hydrogen in it.  2035 is a long way off so technology and government policies are likely to change.  Yes there will be a gradual change over to more environmentally friendly means of heating homes but even as it stands today a new natural gas boiler could be fitted in 2034 and that could keep going to 15 years which brings us to nearly 2050.  Energy efficiency if very important, more so more than ever, with the cost of gas and electricity as high as they are now having a system that is well designed, installed and maintained is crucial.
Good control of your heating system is very important.  The more control you have over it then the cheaper your running costs can be; this can be done by simply fitting thermostatic radiator valves to existing radiators or  taking it a step further and having multiple heating zones that can be switched on or off independently to different target temperatures.
We can design, supply and install highly efficient underfloor heating that will be ready for the future, an underfloor heating system that is designed and fitted well that will work just as well with a gas boiler or a renewable heat source.  There are many different floor constructions and they can all have underfloor heating. So whether your property has multiple different levels, with numerous floor constructions, whether it is a new build or it needs to be retrospectively fitted we have the expertise to help. Look below for further information on different kinds of underfloor heating that are available.
If you want a system that incorporates both radiators and UFH then it is perfectly do-able, the systems need to be split and then each have their own set of controls as the way in which each system warms up is different.  Radiators are typically much more responsive so can heat a room more quickly, on the flip side though they could down more quickly.  With UFH the response time is considerably longer, so any heating program needs to be switched on before the radiators so give the heat chance to come through.  The corresponding is also true though, the UFH takes longer to cool down so can potentially be switched off sooner.  Some people say that when using UFH it's best to set the thermostat to your desired temperature and just maintain that instead of setting a program, this avoids highs and lows in temperature, by all accounts less energy is required to maintain a temperature than heat a property that has lost a few degrees. We tend to think it is up to the individual and how they live their life, run both ways and see which works best for you, one way will sure to be cheaper for you and provide the level of comfort so that would be the best choice.
If you are looking for an entirely new heating system or system upgrades then at Exeter Heating we can provide the solution. Whether it is underfloor heating, radiators or a combination of both we can help.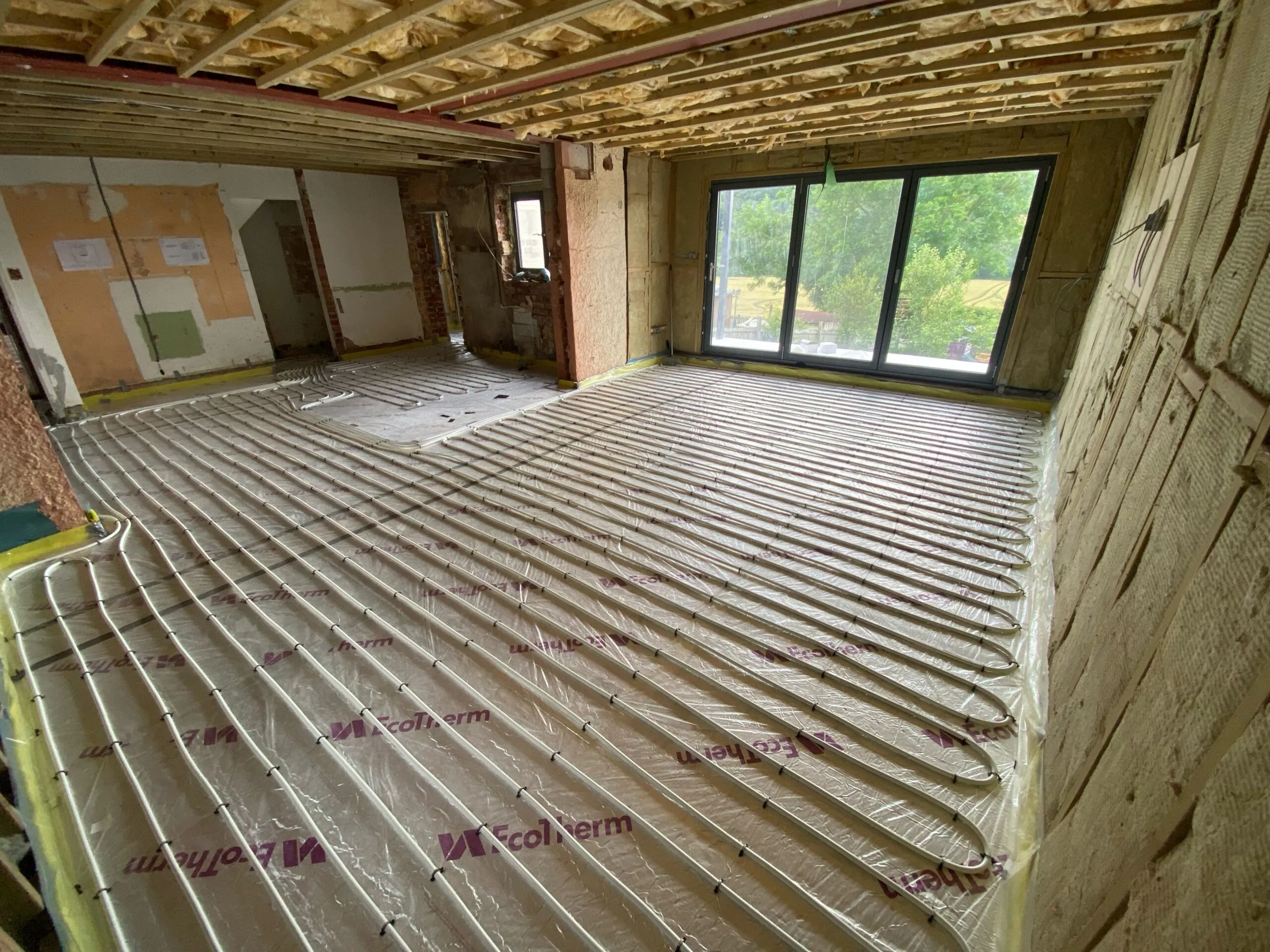 UFH - Pipes stapled to insulation
The image was part of a very large project that actually used numerous different methods of fitting underfloor heating.  This approach sees the UFH pipes stapled in to the insulation.  The pipes are 16mm in diameter and are set at 150mm centres.  The heat source for this installation was a new heat pump.  In this particular room half of the room was the original house and the other half part of a 2 storey timber frame extension. The existing part of the floor was am old very un-level solid floor constructed in the 1930's, there had been some settling over the years around the foundations which resulted in large hump in the middle of the old kitchen.  The floor was broken up removed, levelled off using hardcore, a new damp proof membrane fitted and then concreted to be the same level as the new beam and block floor that was fitted in the new extension.  100mm thick insulation was fitted to the whole floor, new and existing, a vapour barrier put down and the UFH pipes stapled to that.  Once the pipes were put down, connected to the manifold and pressurised a liquid screed at 40mm thick was poured over.  A job that had challenges but shows how an old existing solid floor can have UFH fitted.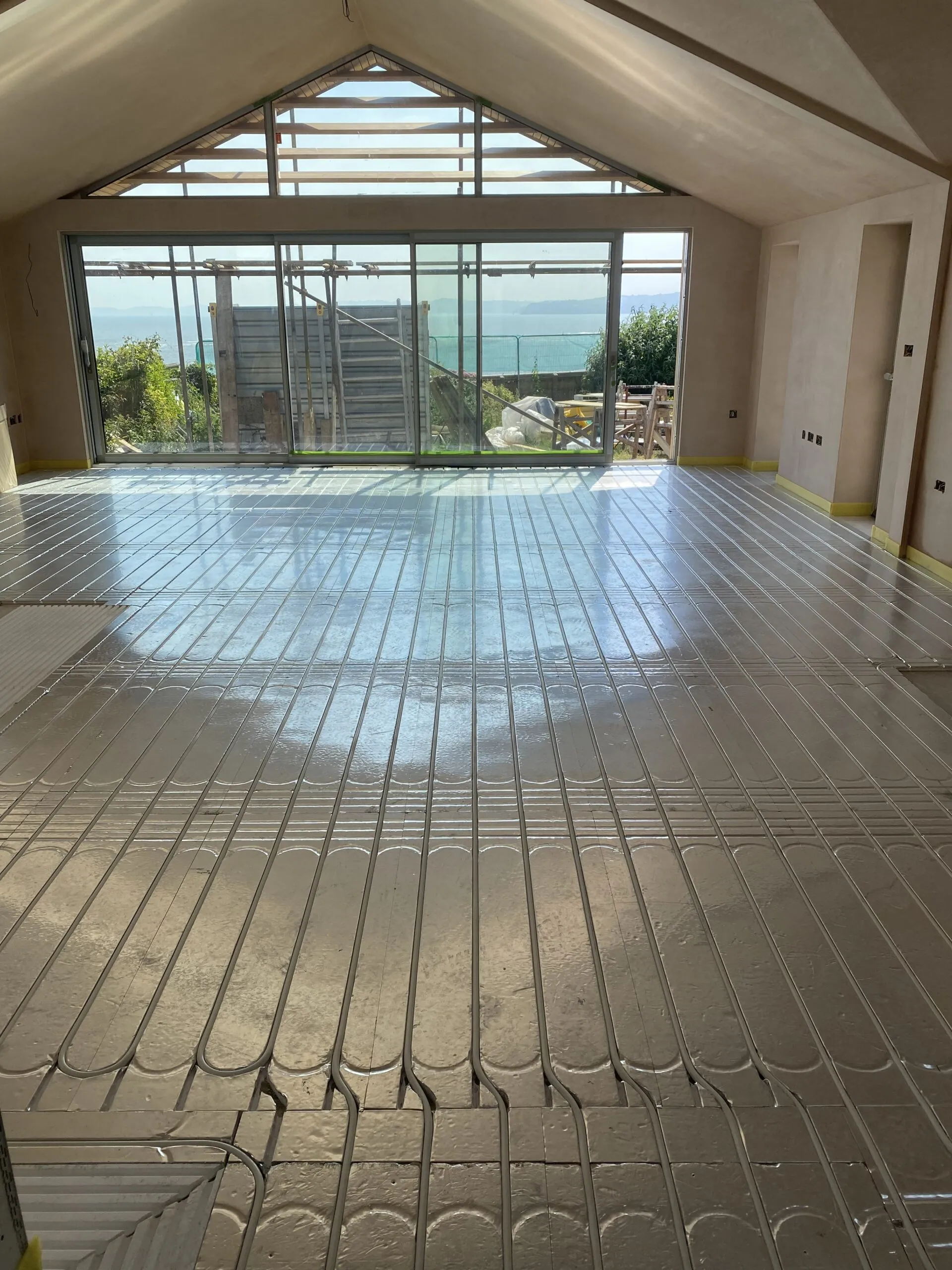 Over Floor panels
Another method of fitting underfloor heating is using over floor panels.  In this case we used Wunda Floors EPS400 panels.  This project was part of a full house renovation and extension in Exmouth and these panels were used throughout. The ground floor was a suspended floor, all the existing floor boards were taken up and 150mm of insulation was fitted everywhere the ground floor.  New floor boards were fitted which gave a use a solid level base across the whole existing house in to the extension for the new EPS 400 panels to be fitted to.  These panels are 20mm thick and a made of a very dense polystyrene, with pipe channels grooved out and to further improve the way the heat is spread aluminium diffuser plates are fitted.   The UFH pipes are fixed into the grooves with the aluminium spreader plates built in.  The idea of the spreader plates is to help spread the heat more evenly and quickly. These panels being 20mm thick do require pre planning as it can mean that skirting board, architraves and door need to be altered but any UFH system requires planning.
Depending on the floor finish going on top of these panels there is a different method for each, advise can be given when choosing you preferred floor finish.  These panels have been approved to be tiled on to directly by Mapeii and Ultra, both being very well known tiles adhesive brands, when use in conjunction with a suitable primer.  By tiling straight on top of these panels the warm time is reduced greatly.  An engineered wood floor can be laid directly on top.  A thin floor finish such as Lino or Karndean can be used but a renovation self levelling screed will need to be poured on to the panels first.  Having this renovation screed poured on to the panel gives a totally solid level base on which to lay the flooring, it acts as a floor radiator as well once the screed has been heated.  There is a belief held by some that you can not lay a carpet on to UFH, this is not true carpet can be used, there is a limitation on how thick the carpet can be combined with the underlay but you are able to carpet rooms that have UFH.  If carpeting a room that has these panels then thin sheets of ply will need to be put down before the underlay,  just be careful screwing it down!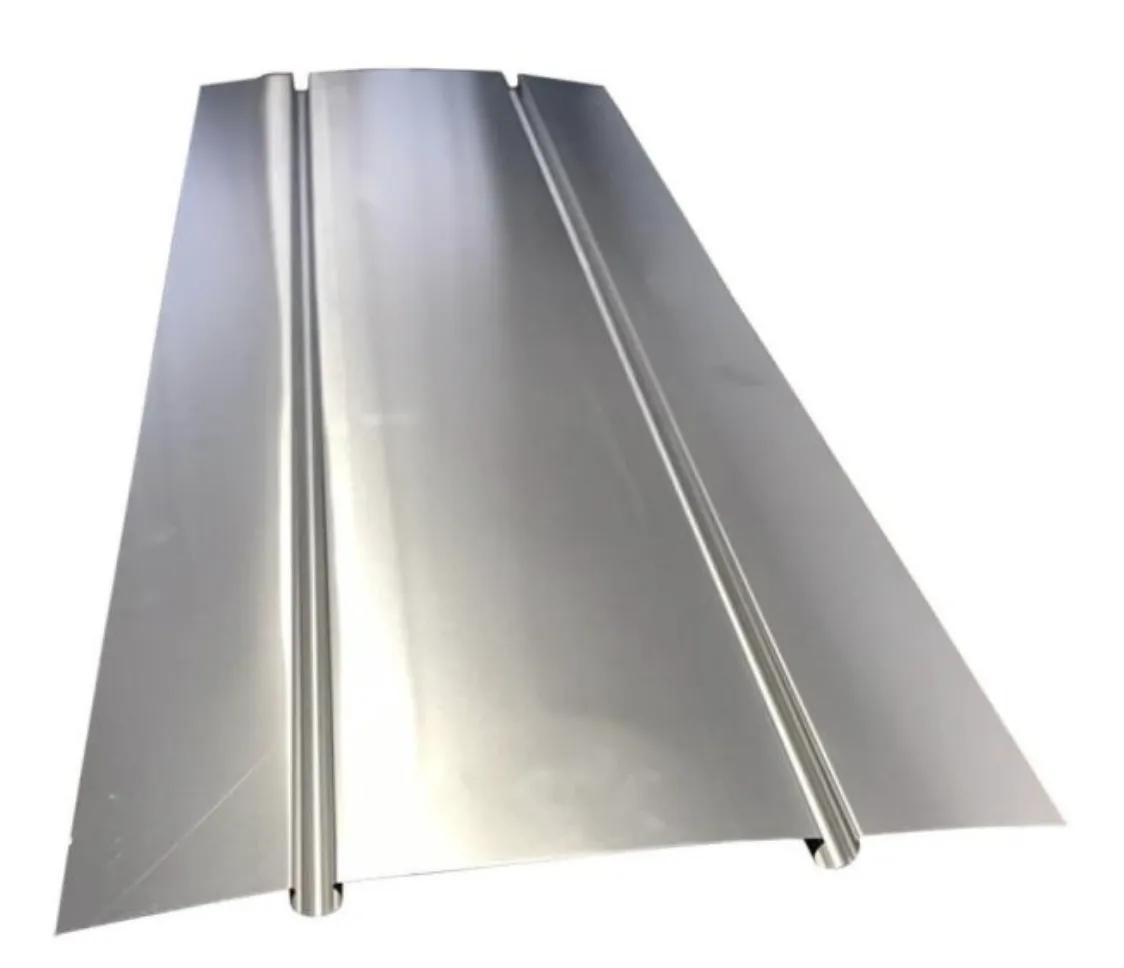 Aluminium Spreader plate
These panels are used as part of a retro fit project.  Typically the pipe centres are set at 200mm which unfortunately is not suitable for a heat pump however there are a few coming to the market now where the pipe centres are at 150mm making them suitable for low temperature heating.  When there is a limited head height or adjusting skirting, architraves and doors is not possible this can limit the used of the over floor panels such as the EPS400 shown above.  This  becomes a good option.  Getting the prep work on this is important, as it is in most cases, but the joists need to be insulted between, ideally with a rigid PIR insulation, the insulation needs to be tight so there is minimal air gaps between the insulation and the joist, any gaps should have expanding foam applied to prevent any air flow.  Please note that air flow underneath the joists and insulation is still required to prevent any condensation build up.  Once the space between the joists has been well insulated these panels can be fixed to the top of the joists, the joists then notched at the end to allow the loop of the pipe and the pipe fitted.  After all the pipe has been pressed in to the panels to each of the zones then pipe ends can be connected to the manifold and everything pressure tested.  Upon successful completion of testing the system remains under pressure and the old original floor can go back down, assuming that it came up well, or new flooring can be fitted and screwed down to the joists, taking care not to hit any pipes. Once the floor is back down then the rooms can be finished and the system completed.